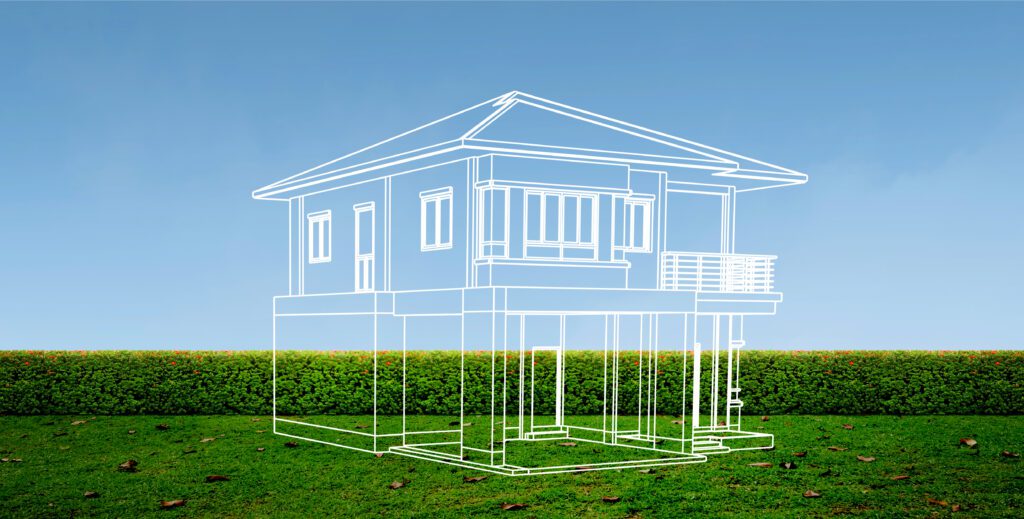 Self-build mortgages and stage payments
Searching for the right property can be a long and stressful process. Even when a particular home seems promising, you'll probably find that your location, design, and price ideals rarely align.
The alternative is to build your own home instead of buying a pre-built property. This allows you to tailor every aspect to your personal needs and preferences – with guidance from the experts.
You could try to do most of it yourself (if you have the experience and qualifications to carry out building work). Or, you could hire an architect and builders to take care of things for you.
The last option, for those who want a hands-off experience, is hiring a contractor to sort everything out on your behalf. However, this approach is obviously going to be more expensive.
Whichever self-build route you take, it's likely that you'll need a mortgage to finance the project. After all, most of us don't have the funds to build an entire house just sitting around.
Standard mortgages are for newly-built properties, so you'll need a specialist mortgage. Let's take a look into stage payment mortgages and how they can help you to self-build your dream home.
What is a stage payment mortgage?
Banks tend to release standard mortgage funds once a property sale completes.. Mortgages for self-builds are different. They release payments in instalments instead of a lump sum, across multiple stages of the building process.
This type of mortgage allows you to borrow money to buy land to build on first, then pay for the construction in stages as it progresses. It's helpful for managing cashflow if you don't have the funds to pay for the project upfront yourself.
Since it's a specialist loan, there are fewer providers to choose from than for standard mortgages. The stage payments reduce the lender's risk, as there's more room for error with self-builds if they aren't managed properly.
What types of self-build mortgages are there?
There are typically two self-build or stage payment mortgages available: advance and arrears.
Advance mortgages allow you to draw the funds ahead of each stage to fund each part of the project. They usually cover up to 75% of the value, so the deposit will be around 25%.
Arrears mortgages only release payments after the completion of each stage. This means you have to fund each stage yourself first, then the mortgage instalments will essentially repay you. You'll also have to pay a larger deposit of up to 50%, as this type covers less of the value.
Self-build mortgage loan amounts depend on whether they're cost-based or valuation-based. This means the stage payments are based on either a portion of the project costs or the value of the project at each stage – usually, whichever is lower.
How much are self-build mortgages?
Each potential lender will assess your financial circumstances (income, outgoings, and debts) and your project planning to establish how much they want to lend you. The more prepared you are, with accurate cost projections, the more likely they are to approve your self-build loan.
Interest rates for these mortgages are higher than standard rates due to the higher risk involved for the lender. They tend to be around 4-6% per annum. However, some lenders will reduce the interest rate later in the build when the property is habitable.
Depending on the lender and particular mortgage, you may be 'tied in' to this loan for 1-3 years. Self-build homes typically take at least a year to complete. Once you have a Building Control Completion Certificate, you may be able to switch to lower interest.
Why choose a self-build mortgage?
There are many advantages to self-build mortgages. They enable you to make regular payments to your contractor or purchase materials as needed. Since you only take an instalment, this keeps your monthly interest payments lower than if you had to pay interest on the total amount from day 1.
Of course, the main draw of these mortgages is that they enable you to design your ideal home. Rather than buying a new build in a cookie-cutter development, you can customise everything exactly how you want it. The final product often has a higher property value than it costs to build.
The higher deposits and interest rates are the main downside, as you still have to cover your living costs elsewhere throughout the build. It also requires much more paperwork in preparation. You need planning permission and project cost evaluations ready before you can even apply.
On the plus side, there's the potential of saving thousands of pounds in Stamp Duty. While this tax has increased when buying completed builds, you can get around this with a self-build. You'll only have to pay Stamp Duty on the land that you bought to build your home on, not the building itself.
How do stage payment mortgages work?
Understandably, you want to know when you'll receive the mortgage payments. The lender will normally only release the stage payments after receiving a satisfactory report at each stage. Your supervising architect or the lender's property valuer will complete regular inspections.
Many lenders won't offer a mortgage on a land purchase only, and will only release the first payment once the foundations have been laid and inspected. The regular inspections will allow the lender to monitor your progress, and ensure you're staying on track with the project plan.
Most banks will permit Architect's Certificates as proof of the status of a building project in order to release the funds. Prior to the final payment, you must provide a copy of a Professional Consultant's Certificate (PCC) to confirm the property's completion.
When are the stage payments released?
The key stages for self-build mortgage instalments may vary according to the lender, but they tend to follow this pattern:
Purchase of land (with planning permission outline)
Substructure completion (site clearance and foundations)
Building of load-bearing elements (wall plates, floor joists, roof trusses)
Wind and watertight proofing (completed external walls, roofs, windows)
First fix (ventilation, plumbing, electrical wiring, internal joinery)
Second fix (plastering, final fittings and connections for the above)
Certified completion (with a Professional Consultant's Certificate)
These can vary according to the type of build, as 'brick and block' construction is different to timber frame construction. Renovations, such as barn conversions, are also completely different to self-builds from the ground up on empty land.
What do I need to apply for a self-build mortgage?
Self-build mortgage criteria will vary from lender to lender, so you'll need to double-check their specific requirements before applying. Some require working to a fixed budget, and you may have to include contingency costs of up to 20% in your build cost estimates.
The criteria usually depend on the build type and location, but you will obviously need to comply with current Building Regulations at all times. You'll need to identify or estimate the costs for:
Purchasing the land
Obtaining planning permission
Project management (e.g. health and safety compliance)
Site preparation (e.g. demolition, landscaping)
Architectural design fees
Construction costs (based on drawing specifications)
When applying for the mortgage, you'll need to provide copies of the relevant documentation. This includes fixed-price contracts for architect's and builder's work, if applicable. The bank can take up to 3 months to process this while they investigate your paperwork and finances.
You must be able to prove that the construction project is registered with the HB47 Scheme, or that it will be supervised from start to finish by a qualified architect or building surveyor. In the latter case, they must have certification for adequate professional indemnity insurance.
You'll also need an appropriate building insurance policy and structural warranty. Please be aware that these are not the same thing, and banks usually require prospective borrowers to have both in place. These legal protections should give you peace of mind, as well as the lender.
Contact us for Stage Payment Certificates
When you take out a self-build loan, the lender will expect an initial evaluation at the beginning, interim evaluations throughout the project, and a final evaluation on completion. To prove to the bank that everything is proceeding as planned, you'll need Stage Payment Certificates.
Also known as interim certificates, or 'pay as you build' certificates, you won't be able to receive the funds and pay contractors without them. Luckily, the ABC+ Warranty team at Architects Certificate can provide these all-important documents for your self-build project.
Simply get in touch and we can ensure that due diligence is done for your self-build construction. You can call us on 0161 928 8804 or send enquiries via email to info@architectscertificate.co.uk. We'll be happy to advise you on Stage Payment Certificates for your project.